Dhal for Roti Canai - Malaysian style
(vegetarian food served with Roti Canai)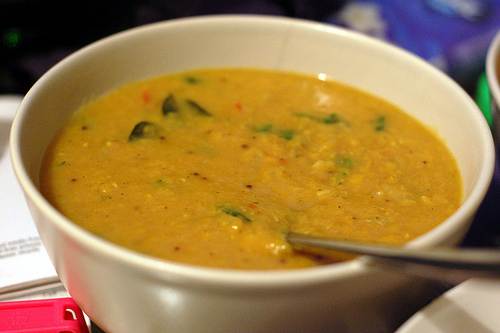 Ingredients
1 cup dried yellow lentils
3 cups water
1/2 tsp ground turmeric
1 tsp or 2 tbsps oil or ghee/butter
1 tsp black mustard seeds
1 dried red chili
1 medium onion, sliced thinly
2 cloves garlic, minced
2 slices ginger, peeled and minced
20 fresh curry leaves
1 tsp garam masala
1 medium tomato, cut into 8-10 sections
salt to taste



Method:
1.Pick through the lentils and remove any foreign objects .Rinse the lentils a few times in water, until the water runs clear. Soak them overnight or use a pressure cooker to quicken the cooking process.
2. In a medium sized pot, stir together the lentils, water, turmeric and 1 tsp of oil . Set it over high heat and when it comes to a boil, reduce the heat and let it simmer until the lentils are soft. This should take about 30 minutes. Stir occasionally.

3. Heat a frying pan over medium heat and add the 2 tbsps of oil/ghee. Add the mustard seeds and when they start to pop, add the chili, onion, garlic, ginger and curry leaves. Fry until the onion softens and starts to become golden. Add the garam masala and the tomatoes and cook until the tomatoes start to wilt.
4. Pour this entire mixture into the softened lentils, add salt to the pot, mix well, and continue simmering the lentils for about 5 minutes. The final mixture will be quite thick. Feel free to add more water if you like your Dhal thinner.